Snow shovel completes the avalanche safety gear set along with avalanche probe and avalanche beacon. However, compared to the other two items shovel is a much more versatile tool. Also, depending on the model, the space a shovel can occupy can vary greatly, so choosing it wisely is important.
Shopping for a snow shovel: things to consider
There are couple of things to consider when shopping for the right snow shovel for you:
Use considerations
Size (scoop volume and handle length)
Material it is made of
Weight
Use considerations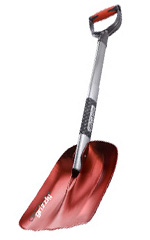 It is obvious that a snow shovel as part of avalanche safety equipment set is mainly thought of as an avalanche rescue tool but you should think a bit outside of the box.
The snow shovel you choose should depend on what you will be using it for most often, and it won't be rescuing for sure, unless you are a rescue professional.
If you are snow study savvy, like to build jumps, or occasionally need to dig out your sled then you should be buying a full aluminum shovel with a fairly long handle (it will be telescopic) and a large scoop (blade).
Most of these will cut through variety of snow and crusts. Also heavy users such as mountain guides and avalanche professionals belong in this group because they need a shovel that will last.
A slightly different user group would be people that prefer to travel light or maybe ski to backcountry only from the lifts. They don't need to (or want to) haul extra gear and weight. They also need something very compact for their small pack. If that is you then start looking at snow shovels that have a plastic blade.
No worries, the plastic is plenty tough and does not break under 99% of conditions. It is lighter though and the shovels are generally a little smaller. Shovels with plastic blades don't cut crusts as the aluminum ones.
Consider your most likely use and choose accordingly.
Size – scoop volume and handle length
Your use considerations will also define the overall size of your shovel to some degree too.
Big shovels such as the Ortovox Grizzly II or Backcountry Access Arsenal feature a high volume scoop and a long handle. They are not the most compact ones but that is usually not a concern for their users who are usually avalanche professionals, rescue workers, or mountain guides.
Smaller shovels for general public are made to pack easier. They would still have a long enough telescopic handle for comfortable shovelling but they would have a smaller scoop. Simply, overall their size is much more convenient in all aspects.
Then there are the smallest snow shovels. They might have the same size scoop as the "general public" shovels or smaller but their handles are not telescopic. They will still do the job in a rescue situation but their main advantage is that they will fit in almost any backpack. They are pain to dig snow pits with.
Materials
Snow shovels these days are mainly made out of aluminum, tough plastics, and only very few use carbon.
Obviously, the aluminum shovels are the ones that should last the longest or cut through most of the snow. However, this also depends on the quality of design and manufacturing.
Plastics are usually used for the very top part of the handle on more than 90% of all shovels, and it is no issue at all.

Then there are plastic blades (scoops). Not all plastics are the same and the toughness of such a blade also greatly depends on the design quality, manufacturing and blade's shape.
In general, plastic blades on shovels are no problem except they don't cut easily through crusts and very low temperatures might compromise their "natural flexibility" properties, meaning they might break under less stress than designed for.
Weight
This is an important factor to consider when choosing a snow shovel, however, it is underlined by the above three factors. So if you have very specific preferences then the shovel's weight will be only a consequence of those preferences.
Sometimes, maybe you might want to consider weight before material and size factors because if you intend to use it for multi-day trips then every gram counts. And if you are OK with loosing couple of minutes when doing a snow stability test due to a smaller shovel then go with something very light. You can save around 200-300 grams easily and still get the job done, without having to haul too much weight.